Bezalel (Calek) Artur Hendel was born on August 14, 1887 in Lipno in the Russian partition - now Poland. In an indigent, pious Jewish family. As a young man, he studied to become a cantor, or prayer leader, and a kosher butcher. To that end, he visited his older brother, who was already a butcher in Zagreb. In the early 1920s, he immigrated to Berlin and initially served as both cantor and butcher.
Arthur's employee pass issued in Drohobych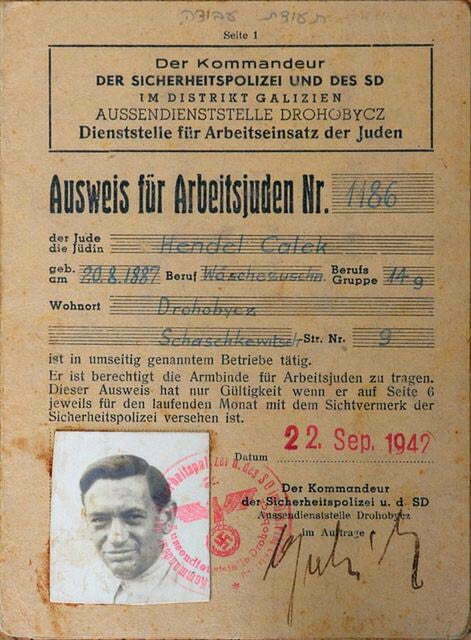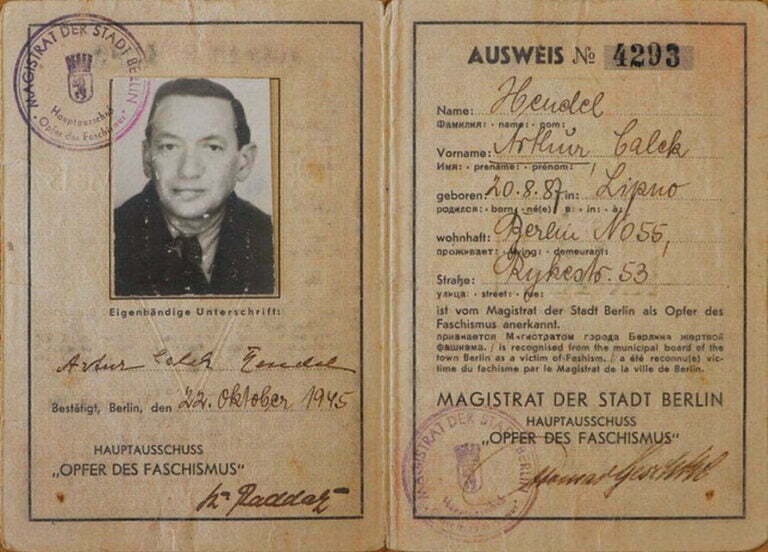 On the night of October 28, 1938, Arthur was driven to the town of Bentschen (now Zbąszyń) as part of the Polenaktion. He believed that as a decent German taxpayer nothing would happen to him, so he didn't want to go into hiding beforehand, as many of his friends did. His family had no way of contacting him. After two weeks he had a place in Berlin, where he left his wife and daughter and took place, Kristallnacht. His wife Zosia, having witnessed the looting of a neighboring store, decided to sell the family business and apply to emigrate to Great Britain or Palestine. She sent everything they owned to Hamburg and paid in advance for shipping to a country that would give them refuge. Hadassa stopped going to school and was temporarily placed in the care of her mother's sister Aunt Regina.

Certificate of Victims of Fascism Bezazel Hendel, issued by the Court of the City of Berlin
In June 1939, Artur managed to return to Berlin. While waiting for immigration documents, the family decided to go to Drohobych to stay with Zosia's parents. They never received permission to emigrate.
In 1941, after Germany attacked Russia, a ghetto was established in Drohobych. The family avoided the initial round-up because they were not included in the census as residents. They met Izydor Wołosiański through Zosia's brother Seifert's employer. They were among the first basement dwellers.
After liberation, they returned to Berlin in September 1945 with a bag full of bacon as their only luggage. All of their belongings were destroyed in the 1944 bombing of Hamburg. Initially, the Jewish community sheltered them in a former Jewish school on the corner of Rykerstrasse and Oranienburgerstrasse.
Yad Vashem 1984, Ceremony of awarding the Order among the Righteous of the World, from right: Yad Vashem employee, Tova Sztok, Stella Arad, Sława with diploma, Hadassa, Sophia Hendel and Arie Nativ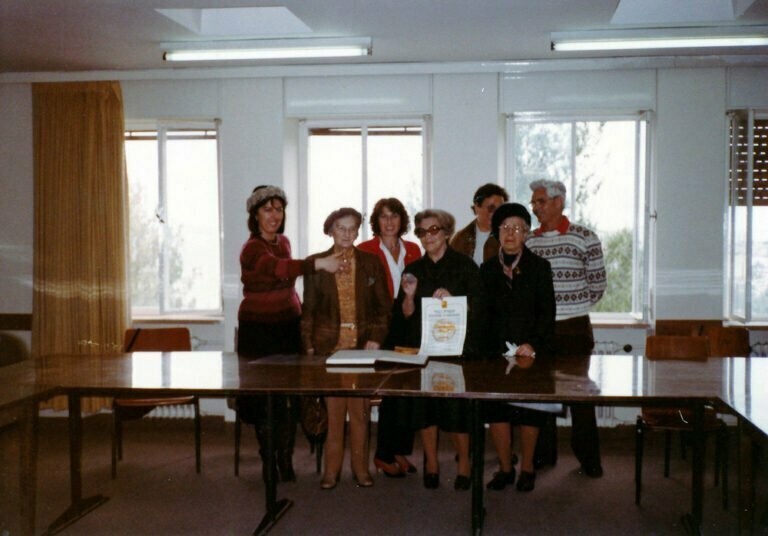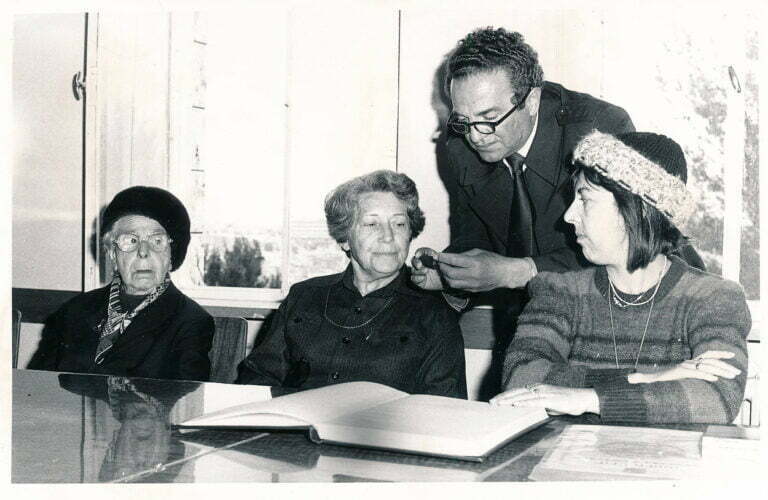 Hadassa rejected everything German. After a year, she refused to go to school. She learned about a Jewish orphanage on Iranischenstrasse and the Aliyat Hanoar group. It provided an opportunity for children and young people to emigrate. She joined the movement against her father's opinion. In 1946 she boarded a truck with other young people and traveled to Frankfurt am Main. From there to Paris, Marseille and finally by ship to Palestine. During the trip she met her future husband, Michael Comfortable. Hadassa settled in Modelet, a village in northern Palestine. In 1948, at the age of 19, she joined and fought in the Plugot Hamachat'z, an elite unit of the Israeli independence movement. Arthur and Zosia Hendl moved to a camp for deportees in Solstheim, Thuringia. He was elected arbitrator, she worked as a librarian. In 1949, they both moved to independent Israel and were reunited with Hadassah. They settled in the Tel Aviv area. Arthur began working as a tailor again. Hadassa was trained and became an accountant. She married Michael Comfortable in 1950. They had two children. Arthur died in 1972, Zosia in 1989. Hadassa moved with Michael to a senior citizen settlement in the 1990s. She died in Israel.
Pictured are Zofia Hendel, Sława, Lusiek Arad and a Yad Vashem employee, 1984.
Shlomo Wygodny:
" Hi there, a good part of our moving to Tel Aviv is that I have to open old boxes and look at their contents.And look what I found - my grandfather Calek (Bezalel, Artur) worked in the Seifert factory at Szaszkiewicza 9.So, he had lots of documents about it - and they all survived the war.Attached, I scanned these work permits, that include the Szaszkiewicza address.The first is actually "invitation" to the police - actually an "Action" to deport some of the Jews to camps. Luckily he probably escaped it." -Shlomo
Pictured are Anna Pilko, Shlomo (Hadassa's son) and Michal Wygodny (Hadassa's husband).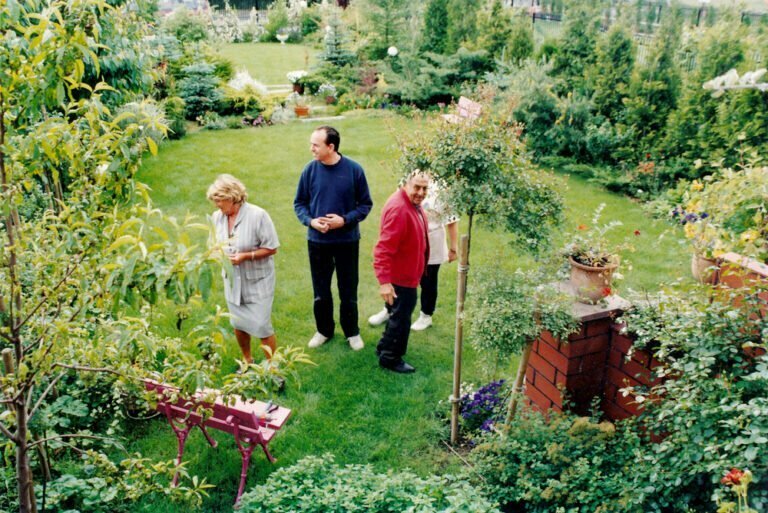 1. Zosia Hendel and Genia Sztok, Sława and Hadassa Wygodny in Israel
2. Sława Wołosiańska, Zosia Hendel and Genia Sztok in Israel
3. Sophia Hendel, Sława, Lusiek Arad and Yad Vashem employee, 1984
4. Slawa Wołosiańska in Yad Vashem, Zofia Hendel sitting, 1984
5. Genia Sztok, Lusiek Arad standing, Yad Vashem employee, Sława with a diploma, Zofia Hendel and Stella Arad
6. Anna Piłko, Shlomo and Michał Wygodny (Hadassa's son and husband)
7. Wojtek, Michał Wygodny (husband of Hadassa), Mira Kahana and Anna in Nieporęt
8. Yad Vashem, award ceremony, from the left: Yad Vashem employee, Tova Shtok, Stella Arad, Slava with a diploma, Hadassa, Zofia Hendel and Arie Nativ, 1984
1. Artur's work pass, issued in Drohobych

2 Victim of Fascism certification of B.A.. Hendel, issued by Berlin City Magistrate

3-4 Documents of B.A. Hendel

5. Artur's work pass, issued in Drohobych

6 Document stating B.A. Hendel's assigned time and place of work. Issued by Drochobych Employment Office

7-8 Documents of B.A. Hendel, regarding his official place of residence

9-11. inventory of Artur's personal possessions

12. Sophia Hendel.'s criminal records, proving she hadn't been convicted of any serious offense against German gover
Further Hendel family documents
Hadassah testimony part 1
Hadassah testimony part 2
Interview with Hadassa and her children, Mira and Shlomo
See more about our family history
Support the work of our Foundation in cultivating the memory of the Righteous - only with your help can we succeed!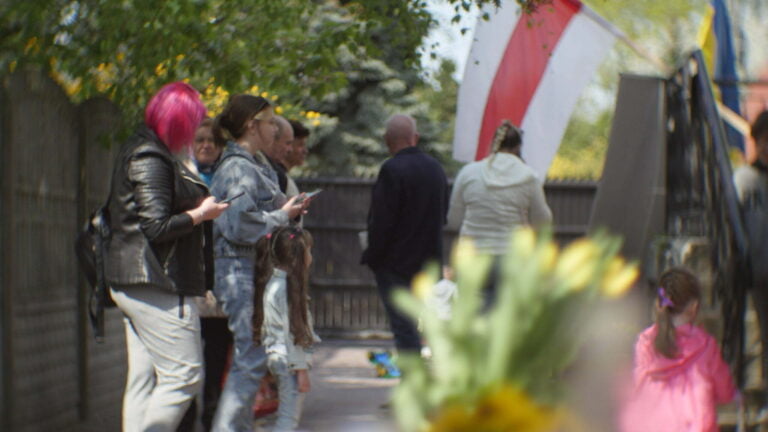 The founders of the foundation have been actively helping refugees for more than 15 years. Humanosh Foundation has been operating since 2020, with the help of the family, volunteers and thanks to the support of donors we help refugees and spread the story of the Wołosiański family.
Our mission is to build a reality in which every person feels safe and dignified, regardless of his or her background, race, religion or skin color.
Only with your help can we succeed!