The Volosianski couple, who had lived in Breslau since the postwar years, saved during World War II 39 Jews from Drohobych.

An exhibition at the Edith Stein House tells of their heroism Thirty-nine. They will remember this number for the rest of their lives. That's how many Jews, including seven children, were hidden in the basement of their home by Jaroslaw and Izydor Wolosianski.

An exhibition at the Edith Stein House Thirty-nine tells of their heroism. They will remember this number for the rest of their lives. That's how many Jews, including seven children, were hidden in the basement of their house by Jaroslaw and Izydor Wolosianski. For two years. Although it bordered on a miracle - they all survived

The heroes are no longer alive. Izydor died in 1971, Mrs. Slava - as everyone called her - passed away, quite unexpectedly, in December 2006. - Her passing was a great shock to us. The last time she was with me in Israel was in September, at a party for her granddaughter," survives Stella Stock, one of the Holocaust survivors. She regrets greatly that she could not attend Slava's funeral. She was recovering from eye surgery, and the doctor did not allow her to fly on the plane.


"History has come full circle, memory remains."

She will remain in our hearts forever," say her relatives, acquaintances and friends. Among them are survivors of the Holocaust. Military prosecutor Arie Natif, (whose words became the motto of the exhibition), Stella, her sister Mitka, Hadassa. They were friends with Slava for many years. They called her, wrote to her, invited her to Israel: for weddings, birthdays, bar mitzvahs. A room with a bathroom awaited her in their homes. The Teppers and Milgroms from Canada wrote long letters. - It wasn't a debt of gratitude, for what she had done. They just loved her, because she was a wonderful person and an extraordinary personality," stressed Urszula Wlodarska, her neighbor for 10 years, who was friends with Slawa. Thanks to an exhibition at the Edith Stein House in Wroclaw, she was able to tell young people from Israel, Poland and Germany about her. They listened with emotion.
Stella Stock as soon as she heard about the exhibition about Volosianski, she came to Wroclaw. With her daughters and granddaughters. She wanted to share her memories, then in Warsaw to visit her daughter Slava. In their conversations they still return to those hard times.


Jews underfoot, Germans overhead

Drohobych, 1941. After the Soviet occupation, it is occupied by the Germans. They establish a Jewish ghetto, where almost 10 thousand people live for a year. Slava observes the drama of the Jews every day. Once she sees the Germans hang an entire family in the main square. - Other Jews commit suicide. Out of fear of the Germans, one family poisoned themselves," recalls Ms. Slava in a TV interview. Her account of what they did made its way into Steven Spielberg's archives and the Holocaust museum in New York. Fame can't forget the sight of the tiny baby being thrown by the German's feet onto the truck. And the mother with the infant at her breast, pushed with rifles to climb faster onto the truck. Jaroslawa (nee Skolskaya) and Izydor, 11 years older than her, an engineer she met during the occupation, get married and live on the first floor of a small house on Szaszkiewicza Street. A German, a military man, lives on the second floor, and there are Jews in the basement below Volosianski's apartment. - It was father who brought them in. One by one. Most were his acquaintances from work. He saw what was happening and offered to help them himself. The fact that they managed to save so many people is the merit of both parents," Anna Piłka, their older daughter, emphasizes firmly. The first Jews were brought to the basement in 1942. A special hiding place was built under the floor for his family by a parquet worker, Wolf Stock, Stella's father, when he realized what threatened them from the Nazis. He bricked up the windows in the basement. He brought in electricity, water and made a sewer system. It was entered through a trapdoor in the kitchen floor. It was covered with parquet flooring, so that you couldn't see anything and only opened it from below. The storage room was low; an adult could not stand upright there. In order to confuse the dogs with which German patrols went around the houses looking for hiding Jews, Sława sprinkled pepper on the lid. Even so, the lives of those in hiding hung in the balance. - Once we almost fell in. The dog of the German who lived upstairs started walking and sniffing around the house and windows. We had to cover them even more with earth," Stella Stock recalls. Fortunately for everyone, the Nazi had fallen for his superiors with something and was soon sent to the eastern front.
Life under the floor
Among those in hiding were people with different educations and professions. Doctors, lawyers, but also workers. Among others, Dr. Leon Miszle, a well-known internist, found his way to the secret hideout. Soon the doctor's brother, an ENT specialist, joined them with his family. The children were kept separately so that they would not betray the hideout by playing too loudly. Among them was several-year-old Arie, with whom Mrs. Slava met years later in Israel and remained friends for the rest of her life.
- Everything in the basement was going in reverse. We lived at night, slept during the day. We spoke in whispers. We did everything quietly. I learned to knit at that time," says Ms. Stella. She was 8 at the time, when she came out of hiding - 10.
- We used to make egg liqueur for Easter. Mrs. Slava gave us eggs, vodka, and we used spoons to grind it," she smiles. Sława did the shopping for them. She drove around the city to different stores so as not to arouse suspicion that she was buying so much food. Then she gave birth to her first daughter Anna. She carried her in a deep cart, into which she put food. - I was lying on a pile of potatoes and groats. Mom always said: you were the poorest child, because you didn't have a mattress," laughs Ms. Anna. She adds that her mother was firm with the Jews. - The rich didn't want to give money for food for the poor. And mother decided that they should share. Because she would not let the poor die of starvation.

Several times they almost fell in. It was when one of the women gave birth to a child in the basement and needed surgery. The Polish doctor at the hospital chickened out and the woman, weak on her feet, returned home to Szaszkiewicza Street. The operation was eventually performed by Jewish doctors in the basement and the woman survived. The newborn was killed so that a scream would not betray the hiding place.


They were afraid, but they saved

No one knew about the cache in the basement. Not even Sława's closest family. - My parents and I guessed a little that they were hiding Jews, but somewhere else, never in the house," admits Danuta Głębocka, Sława's younger sister. She found out about everything when the Soviets captured Drohobych in 1944 and the Jews decided to leave their hiding place. - I was at their house at the time when they started to leave the basement. They looked like ghosts: pale, poorly. I sat shocked," recalls Mrs. Danuta. Some Jews left without a word, without saying goodbye. They never spoke. Others thanked them for their care. They dispersed around the world. Years later, Sława went with her daughter to Drohobycz. She was accompanied by Stella Stock and her daughters. - They really wanted to see the place. The entrance was already somewhere else, but the same kitchen bowl still stood there. This made a colossal impression on my daughters. It was a strong experience for me, too. I didn't sleep for several nights afterwards," admits Stella. Slava's daughter asked her many times if she was afraid to hide these people. - She could have exposed not only herself, her father, but also me to death. And she said that not helping them was like passing sentence on them. And that since the punishment for hiding one Jew is the same as for many, what difference does it make? - recalls Ms. Anna.
Righteous after years
After the war, in 1945, the Volosianskis came to Wroclaw. She worked (for 28 years) at the Institute of Immunology under Prof. Hirszfeld. He was director of a gasworks. In 1967 she and her husband were awarded the "Righteous Among the Nations" medal. This was sought by the survivors themselves. They planted a tree (holly bread) for them with No. 112. Sława and Izydor did not get passports and did not go to Israel. It wasn't until 1984 that Slava received her medal and met with survivors, including Hadassa Wygodny, the Stock family, and Colonel Arie Natif. They welcomed her very ceremoniously, with a military orchestra. Arie spoke Polish for the first time since then. Their daughter Anna only learned about what the Volosianskis had done when she was 18.

- I was told by Hela Frey, a friend of Mom's, one of the survivors, when we were in Zakopane. I didn't admit to my parents that I knew about it. For my father it was a terrible experience, a trauma, but for my mother probably not, because she was a very strong and courageous woman. Another would not have done it," believes Ms. Anna. This is how she is remembered by everyone: children, granddaughters, friends from the country and Israel, neighbors. - A wonderful person. She loved life, people. The soul of the company. She had extraordinary charisma. Constantly curious about the world. As long as her eyesight allowed her, she read a lot. She solved crossword puzzles, sudoku. She knew the Periodic Table by heart and the capitals of all the US states. Well, and she loved bridge," enumerates Ula Wlodarska, her closest neighbor. The family did not immediately learn about the deeds of Slawa and her husband. - She didn't brag about it. She didn't like to tell us about it, much sooner to strangers," claims her granddaughter Natasha.

- And she was a real lady. Always well-groomed, combed, she loved nature. She always had fresh flowers at home. She never complained that something hurt her. When a doctor once came to see her, she preferred to talk about her beloved classical music instead of illnesses, her neighbor adds. Fame also had an unusual sense of humor. When she woke up after surgery, the doctor asked her what she would like to drink. She replied that she would most like .... methax.
Support the work of our Foundation - only with your help can we succeed!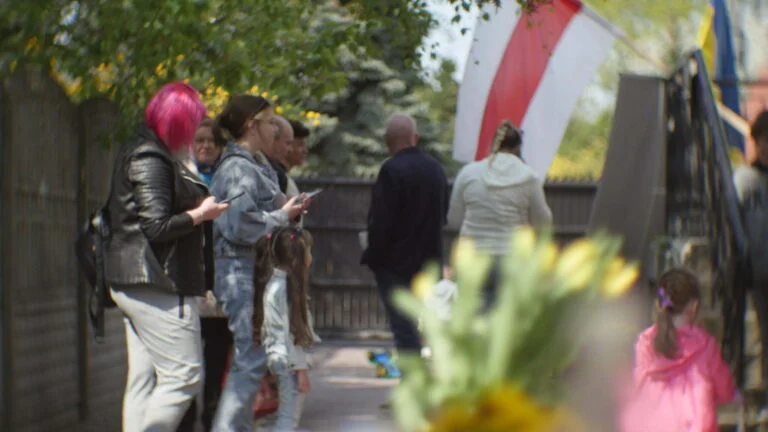 The founders of the foundation have been actively helping refugees for more than 15 years. Humanosh Foundation has been operating since 2020, with the help of the family, volunteers and thanks to the support of donors we help refugees and spread the story of the Wołosiański family.
Our mission is to build a reality in which every person feels safe and dignified, regardless of his or her background, race, religion or skin color.
Only with your help can we succeed!